Are you an exhibitor grappling with the challenge of making your exhibition booth more interactive? Exhibiting at trade shows and industry events presents a fantastic opportunity to showcase your brand and connect with potential clients. However, engaging attendees effectively and making your booth stand out can be a daunting task. We empathize with your struggle and are here to provide you with practical solutions.
Interactive exhibits have evolved beyond static displays, playing crucial roles in exhibitions by inviting visitors to engage with the displays in various ways - through touch, sound, and an array of sensory experiences. Interactivity encourages visitors to engage with the subject matter on a deeper level. When attendees explore and interact with the exhibits, it supports long-term memory of the experience. By encouraging active participation, users are not only gaining knowledge but also memorable experiences that can impact the overall success of the exhibition.
In summary, integrating interactivity into your exhibition design can stimulate higher levels of engagement, provide memorable experiences, and effectively promote your key messages. Let's dive deeper into the challenges and solutions to ensure you can correctly incorporate this into your next exhibition design.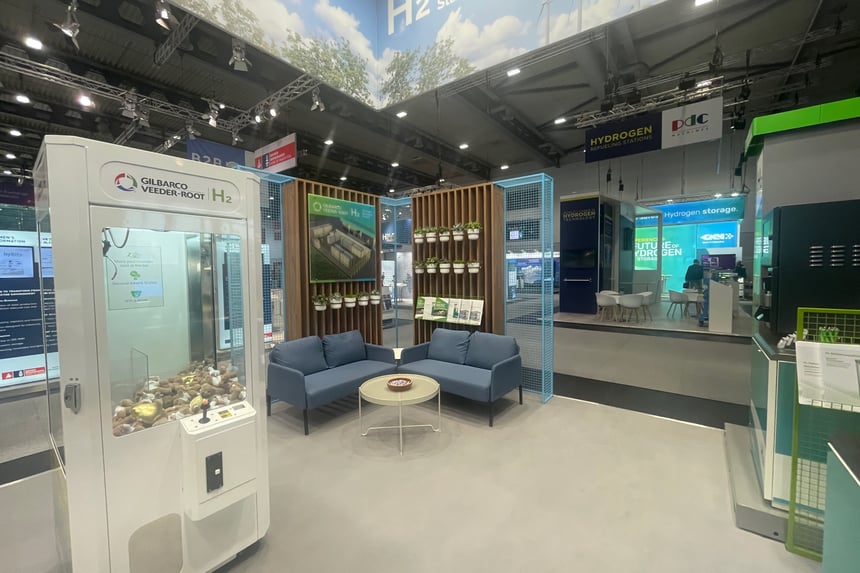 Creating Interactive Exhibitions
Imagine this scenario: you've invested time and resources into your exhibition booth, and you're eager to engage attendees. However, as the event progresses, you notice visitors merely passing by, showing minimal interest. This leaves you pondering the question: "How can I make my exhibition more interactive?"
This is a common challenge faced by exhibitors. Here are some obstacles you might encounter:
Lacklustre Engagement: Attendees briefly glance at your booth but fail to actively engage with your products or services. When engagement at an exhibition stand is lacklustre, it typically implies that the key elements required for successful exhibition design have not been effectively implemented. These key elements include strategy, planning, staffing, social media activity, and overall design of the exhibit.


Interactive Fatigue: After visiting numerous booths, attendees may experience "interactive fatigue," making it difficult to maintain their interest. Interactive fatigue at an exhibition refers to the experience where visitors feel overwhelmed or exhausted due to intense interaction with exhibits, particularly those that are digital or highly interactive.

Although this fatigue is often associated with physical tiredness, it can also extend to mental and even emotional exhaustion. This may occur when visitors are exposed to a barrage of interactive exhibits, each demanding their attention and active involvement. The overuse of interactive elements, challenging content, or complex user interfaces can contribute to this fatigue.

Despite its name, interactive fatigue is not necessarily a negative experience. It can signify that visitors are deeply engaged with the exhibits. However, it emphasizes the need for balance and pacing in the design of interactive exhibits to prevent visitor exhaustion.


Limited Interaction: Getting attendees to participate and interact with your booth can be a struggle, especially in a crowded exhibition hall. This could occur due to various reasons such as the exhibit's design not inspiring active participation or its complexity causing confusion.


Design Dilemmas: Design dilemmas in exhibition stands are the challenges or obstacles that arise during the design process of a stand that could negatively impact its overall productivity and engagement rate. Your booth's design may not encourage interaction or effectively convey your brand's message to attract the right audience.


Lost Opportunities: Failing to engage visitors means missed opportunities for lead generation and brand exposure. To mitigate these potential negative outcomes, it's crucial to plan an effective exhibition stand that emphasizes brand visibility, visitor engagement, pre-event marketing, and staff training.


Best Practices for Creating interactive exhibitions
Incorporate these best practices into your exhibition strategy to enhance attendee engagement:
Set Clear Objectives: Define Your Interactive Goals.

Setting clear objectives for an exhibition stand is crucial as it helps maintain focus and streamlines decision making, ensuring that all elements of the stand, from design to staffing, align with the main goals. Moreover, well-defined objectives provide a reference point to measure the stand's success, guiding the staff in understanding their roles and expectations. Clear objectives ensure that exhibition efforts are consistent with your overarching marketing and business strategies, thus maximizing your return on investment and enhancing your brand visibility.

Metric: Measure the number of interactions, leads generated, and conversions achieved against your predefined interactive goals.


Know Your Audience: Understand Attendee Preferences

A stand design should prioritize the target audience's preferences and behavioural characteristics, which can influence colours, layout, lighting, and interactive elements. For instance, if the audience values sustainability, a stand design with eco-friendly materials can make a positive impression.

Knowing your audience helps in planning engaging activities or demonstrations that will capture their interest and facilitate meaningful conversations, leading to better lead generation and conversion.

Metric: Analyse attendee demographics, interaction rates, and conversion levels based on audience segmentations.



Plan Your Engagement Strategy: Develop a Comprehensive Plan

Planning an engagement strategy for your exhibition stand begins by defining clear and specific objectives, such as increasing brand awareness, launching a product, or generating leads. Understanding your target audience's preferences, interests, and motivations allows you to design strategies that will capture their attention and meet their expectations. One crucial element in your engagement strategy is clear and compelling messaging that aligns with your brand and resonates with your audience.

Your staff members are an essential part of this strategy; they should be trained to deliver your brand message, answer questions, demonstrate products, and record leads efficiently.



Metric: Track the effectiveness of different engagement tactics and refine your strategy based on attendee behaviour.

Measure and Adapt: Utilize Data and Analytics Utilizing data from past exhibition stands to guide future ones is a strategic approach that can significantly enhance your results. By continually using data to guide your exhibition stand strategy, you'll ensure continual improvement, enhancing the effectiveness of your stands over time.

Metric: Regularly review key performance indicators (KPIs), including interaction statistics and lead quality, to adapt your approach.

Collaborate with Experts: Partner with Experienced Professionals

Hiring a professional company to design and manage your exhibition stands carries numerous benefits due to their specialist skills, extensive experience, and vast range of resources. They bring expertise in designing appealing and functional stands, optimal use of space, and the ability to personalize designs to unique client needs. They are also efficient in terms of time and cost, ensuring quality in their designs and materials. By overseeing the whole process, from design to project management and execution, they allow your team to focus on core exhibition aspects such as content development and visitor engagement. Additionally, their ability to enhance visitor interaction, manage logistics effectively, and offer expert ongoing support makes them an invaluable resource.

Metric: Compare your interactive exhibition outcomes when working with expert partners like NeosCreative to your results from previous efforts.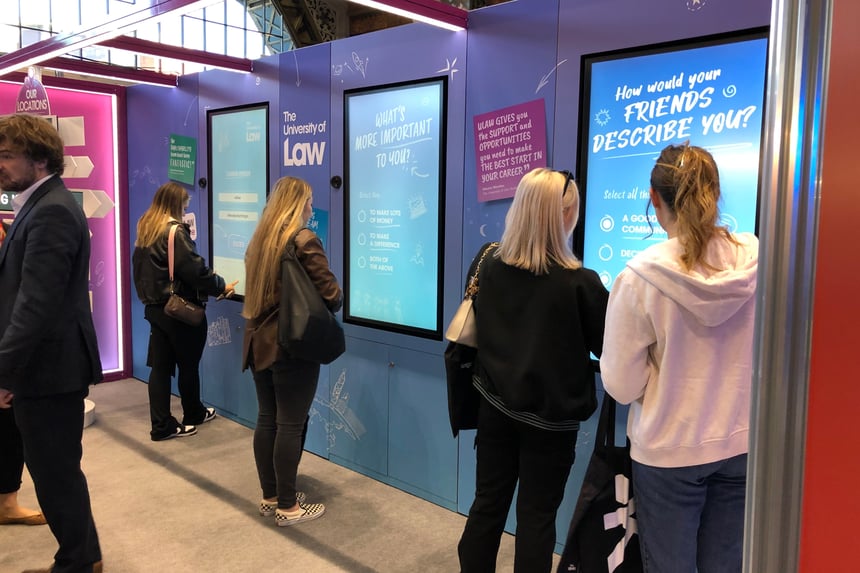 Our solution for interactive exhibitions
At NeosCreative we're committed to helping our clients create interactive exhibitions that captivate attendees in this competitive landscape. Here are our solutions:
Creative Stand Design: Elevate Your Visual Appeal
Solution: A visually appealing and creative stand design tailored to your brand identity is crucial. Invest in a design that entices visitors and invites them to explore further.
Quantifiable Metric: Measure booth traffic and the number of interactions before and after implementing a new stand design.
Engaging Visuals: Catch Their Eye Instantly
Solution: Incorporate striking visuals, including banners, graphics, and interactive displays, to immediately capture attendees' attention and convey your message.
Quantifiable Metric: Track the duration of attendee engagement and the effectiveness of visual elements.
Interactive Elements: Keep Them Engaged
Solution: Create interactive elements such as touchscreens, games, or product demonstrations that encourage attendees to actively participate and immerse themselves in your brand.
Quantifiable Metric: Measure attendee participation rates and the level of engagement achieved through interactive sections of your booth.
Engage Your Team: Knowledgeable and Approachable Staff
Solution: Ensure your booth staff is well-trained, approachable, knowledgeable, and engaging. A friendly and informed team can significantly impact interaction and visitor retention.
Quantifiable Metric: Gather feedback and evaluate the number of meaningful conversations and leads generated by your booth staff.
Cutting-Edge Technology: Embrace Innovation
Solution: Stay ahead with innovative technology like augmented reality (AR) or virtual reality (VR) to provide a unique and immersive experience for visitors.
Quantifiable Metric: Assess the impact of technology integration by tracking visitor interactions with AR or VR elements.
Elevate Your Interactive Exhibition with NeosCreative
Don't let the challenge of creating interactive exhibitions hold you back. NeosCreative is your trusted partner in crafting exhibition experiences that captivate, engage, and drive results. Our solutions are designed to transform your exhibitions into interactive and memorable experiences.